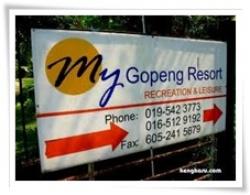 This resort is ideal for those who love physical activities and those who want to relax, and get away from the hustle and bustle of city life. Visitors will love the natural beauty here, besides having a choice of a variety of activities available.
There are various facilities such as mini swimming pool, camping sites, campfire and cafeteria for visitors. Those who prefer physical activities here can try games like flying fox, jungle trekking, night walk and a lot more. There is also kayaking activities. The most popular activity here is to go rafting along the Kampar River (white wafter rafting). Come to the resort to try a variety of activities available!
 
Tips
Transportation is provided from the Bus Station serves to My Gopeng Resort at a reasonable price.
 
Transportation
There are several local bus companies that will take you to Gopeng from the intercity bus stations. Just tell the bus driver if you want to be dropped off at the Gopeng bus station.
If you are driving from Ipoh, take the exit to Gopeng on the North-South road. At the Gopeng toll, turn right heading towards Gopeng city. Go through Gopeng on the main road and you will see My Gopeng Resort on the left. Make sure you do not drive until you reach the intersection.
Information Centre
| | | |
| --- | --- | --- |
| Resort Address | : | My Gopeng Resort |
|   |   | UGM 4/1, Kg. Geruntom, |
|   |   | 31600, Ipoh, Perak, Malaysia. |
|   |   |   |
| Or Office (Perak) | : | 21B Jalan Ali Pitchay |
|   |   | 30250, Ipoh, Perak, Malaysia |
| Telephone | : | 605 – 242 3777 dan Faks: 605 – 241 5679. |
| Email | : | mygopengresort@yahoo.com |